1. Click the "My Teams" button from the home screen OR from the drop down menu located on the left hand side of your screen.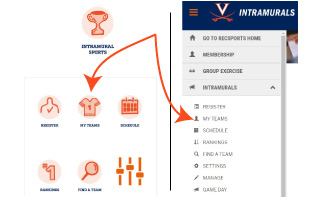 2. Once in the "My Teams" page, you can perform multiple actions such as:  sending team invitations, view your pending rosters and see the past and current teams of which you are a part.
-- You can look at more details of each of your teams by clicking on the team name at the upper left hand corner of each team card. 
-- If you cannot accept a team invitation from the email and link that is sent to your UVA email, you can accept your team invitations under the "My Invites" tab.