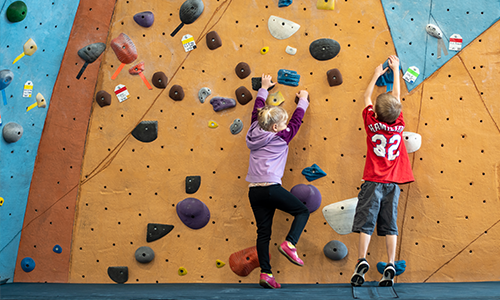 Youth Rock Climbing
Kids love climbing. And for our instructors, that love for climbing blossomed into some pretty awesome adventures, strength and the confidence that comes from summiting mountains. With a priority on safety, we engage all skill levels and help them enjoy excel in a sport that builds resilience, self-confidence and self-control. Class sizes are kept small to maximize climb time and instruction with fun game and activities. 
More Youth Sports
Everyone at UVA Rec have benefited from sports in some way. Sports teach us teamwork, self-worth, discipline and so much more. Through sports, we've walked through the thrill of victory, the disappointment of defeat and everything in between. 
Our sports training clinics are designed for kids of all skill levels have lots of fun while they improve their skills through games and drills. We offer a wide variety of sport opportunities from soccer to basketball to pickleball and more.